3 Axle 40FT Drop Side Trailer Exported to Zambia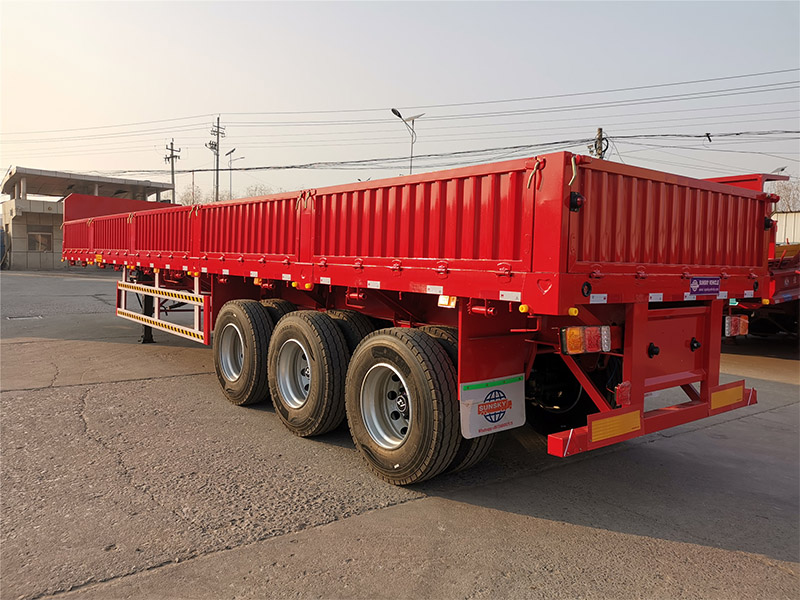 Mr. Mashini found us through SUNSKY Facebook AD. Surprisingly, though, our advertised product was Refurbished Used HOWO Truck and Refurbished Used HOWO Dunk Truck, while the product Mr. Mashini bought was 3 Axle 40FT Drop Side Trailer. Because China has licensed the export of used trucks, now the better quality and more affordable used HOWO trucks are attracting many customers from Zimbabwe, Zambia and other countries. In addition, compared with the used trucks from Britain or Germany, the spare parts of the used HOWO trucks from China are better available and cheaper, which is a great advantage. Mr. Mashini thought that someone who could export a truck would also be able to provide him with a trailer, so he contacted us after seeing our AD for refurbishing used trucks.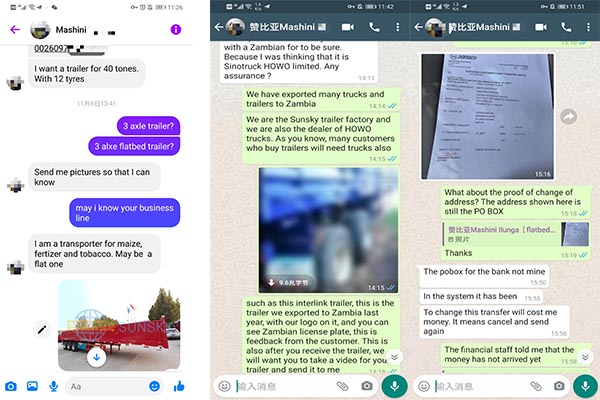 First of all, we communicated through the message on our Facebook homepage. Through this communication, I learned that Mr. Mashini is a transporter of corn, fertilizer and tobacco, so I recommended Drop side trailer with board instead of flatbed trailer for him. Indeed, Mr. Mashini prefers Drop Side Trailer, which can better meet his transportation needs, so we have confirmed the basic transaction content.
Then we started communicating specific product metrics and deal details via WhatsApp. Mr. Mashini was very pleased when he learned that our trailer could carry up to 40 tons, which would allow him to transport different kinds of goods. And our trailer also has 12 container locks, which can transport 20FT or 40FT containers when necessary. Once satisfied with our trailer, we negotiated the details of the deal, which inevitably led to the question of trust. I told Mr. Mashini that our company has exported many trucks and trailers to Zambia, Zimbabwe, Malawi, Mozambique and other countries, and SUNSKY TRAILER is a trusted supplier of trucks and trailers to China. Then I sent him the feedback video of Zambian customers after they bought Interlink Trailer. After reviewing the video, Mr. Mashini confirmed our authenticity.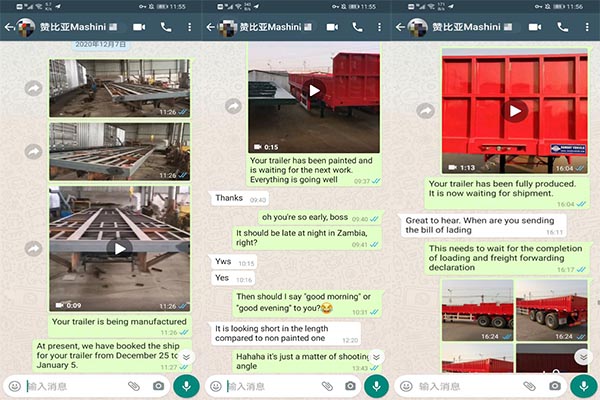 In the process of payment, in order to make it more convenient and Mr. Mashini has been able to trust our company, he chose to directly pay the full amount in two installments. Unfortunately, Mr. Mashini's bank did not use the address on the proforma invoice when remitting money, but arbitrarily used the address with "PO Box", which caused our company's bank account could not receive his payment. In the end, with our help, Mr. Mashini got his bank to correct the address without incuring any fees. In the end, we succeeded in receiving Mr. Mashini's payment. And began produce his trailer.
After the trailer started production, we kept in touch and kept Mr. Mashini informed about the progress of his trailer.
Until finally the trailer arrives at the port, ready to be loaded and transported to the port of Dar es Salaam.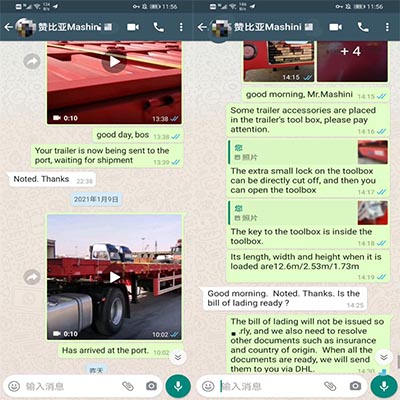 Going forward, we will continue to contact with Mr. Mashini, to make sure that he finally receives his trailer and then receives his feedback video!
Related Posts: